Grocery Commerce
Grocery eCommerce Trends: Read The Top 4 Trends (2022 Insights)
After closing the door on a difficult and uncertain year, grocers around the world will now be turning their attention to the opportunities that lie ahead in 2021 and beyond. There are several grocery e-commerce trends to look out for.
The global pandemic impacted businesses of all shapes and sizes, and while grocers themselves were deemed an essential service and allowed to trade, they had to rapidly adapt to things like social distancing, wearing masks and crowd control. In addition to altering their approach in-house, grocers also had to up their game online, providing an unprecedented number of home deliveries as people followed government advice to stay home and stay safe.
The shift to digital storefronts
What was a gradual step-by-step move towards e-commerce and digital transformation for many grocers suddenly had to be fast-tracked to cope with changing demand. One of the biggest challenges of this shift was maintaining a consistent standard of customer service, with many grocers opting for third-party support or relying on quick fixes to accommodate the change in consumer behaviour. While this may have helped in the short term, the fallout from the COVID-19 pandemic is likely to persist throughout 2021, so grocers will be looking at new longer-term plans to make their businesses more digitally agile.
With this in mind, we thought it might be useful to look at some of the customer trends we're likely to see in 2021 that will shape the e-commerce landscape for grocery chains.
1. Online grocery shopping isn't going anywhere
This rings true: online grocery shopping isn't going anywhere anytime soon. In fact, it was on the rise even before the COVID-19 pandemic hit, but forecasts remained quite modest. At the time, it was thought that e-grocery sales might make up around 4.3% of the overall grocery market, and that this figure might climb to 10-13% by 2025. However, due to the pandemic, online grocery sales hit double digits in 2020 alone, and e-grocery is already well on its way to surpassing 20% of the overall grocery market by 2025.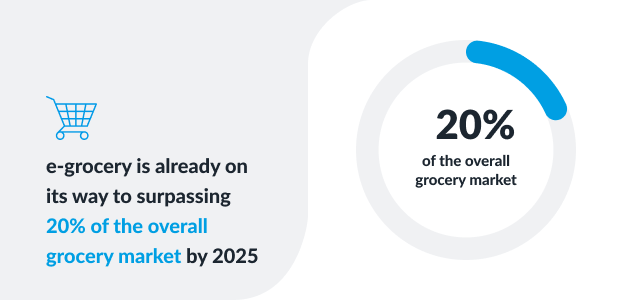 2. Customers will come to expect e-grocery as an option
There's a misconception that once the pandemic is over things will go back to normal. However, a recent survey of more than 60,000 shoppers found that concern about COVID-19 was only one of several motivations for doing their grocery shopping online. More than 60% cited convenience as the number one reason, and 42% said that saving time was their motivation for ordering over the internet.
While it's unlikely that e-grocery will replace physical in-store shopping, it's clear that customer expectations are going to change permanently as a result of 2020. A spokesperson at research group Mercatus, who commissioned the survey, said, "The growth of online grocery in 2020 and its predicted long-term impact, coupled with customers' continued loyalty to brick-and-mortar, makes it clear that these avenues must complement each other in creating a great customer experience across a grocer's entire brand." Another recent survey backs up this claim, stating that around 90% of e-grocery customers are highly likely to continue shopping online once the pandemic is over.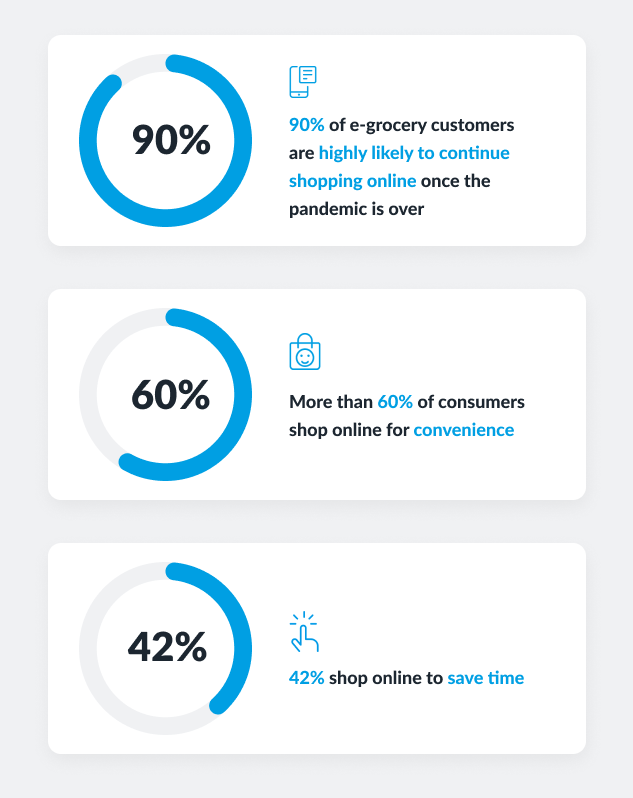 3. Loyalty programs will continue to evolve
As more grocers move their operations online, customers are going to be less constrained by geography. Instead of shopping in their own village or town to save on time and fuel costs, customers will have the choice of shopping with grocers several miles away who will deliver groceries direct to their door. We're therefore likely to see a boom in loyalty schemes as supermarkets work hard to retain customers across all channels.
Hy-Vee in the US, for instance, has recently launched a premium membership programme for its customers. For a flat fee of $99 per year, customers can enjoy free grocery deliveries, exclusive discounts and even a personal shopping service and dedicated customer helpline. It's a form of 'grocery concierge' that is starting to boom in popularity, with Walmart, Kroger and Albertsons offering similar services.
If we look at already established e-commerce retailers such as Amazon, a subscription with perks is the natural 'next step' to retaining customers and preserving loyalty. It's also an incredibly useful way of extracting customer data so services can be better tailored to their needs.
4. Multi-channel order fulfillment will become the new normal
Demand for online groceries soared in 2020, and now that the initial shock has passed, it's time for grocers to take control, improve their platforms and make order fulfillment more efficient. While home deliveries certainly increased in popularity, it was actually collections or 'pick-ups' that experienced the greatest uplift. According to a survey from Brick Meets Click, more than 54% of e-commerce sales came through click-and-collect at the height of the pandemic, and almost 1 in 5 online grocery shoppers use click-and-collect exclusively.
Grocers will therefore need to think about how to give customers the broadest variety of options possible in the most efficient way. Many will start to use dark stores or specialized collection areas designed to facilitate fast, efficient picking. What is certain is that grocers who fail to diversify fulfillment are likely to get left behind, as focusing exclusively on either home delivery or collection will leave at least one group of customers disenfranchised.
The future of grocery e-commerce
Whatever changes lie in store in 2021, grocers are going to have to embrace the omnichannel approach like never before. That means replicating their excellent in-store customer experience online and at every step of the order fulfillment journey, from ordering and picking to home delivery or collection.
To learn more about adapting to e-commerce in 2021 and beyond, and how grocers can harness digital transformation to streamline their services, click here or get in touch with us via this form.