grocery commerce
Lockdown lessons for grocery retailers: what have we learned?
The COVID-19 pandemic is continuing to shape the retail landscape in dramatic ways. Many countries experienced their first lockdown in March 2020 and several of them, including France, Germany and the UK, are still experiencing varying degrees of lockdown to curb the spread of the virus.
Online grocery sales are up 30% worldwide, and even those markets currently unaffected by lockdowns are still adapting to changing consumer habits due to the pandemic. The online share of grocery sales remains high at 25% in China for instance, representing a significant 18% increase on 2019. Could this signify a permanent change to consumer habits?
It remains to be seen what the so-called 'new normal' might look like, but retailers have had to spend the past year accommodating new measures like social distancing. The pressure to adapt has been felt more acutely in the grocery sector where, as an essential service, shops have been allowed to remain open throughout.
The pandemic has also led to a rapid increase in online grocery retail, with many grocers understandably looking to capitalise on e-commerce in order to take advantage.
Throughout the crisis, people have been spending less on non-essential purchases such as clothing, electronics and hospitality. Meanwhile, spending on groceries has increased by up to 20%, with more than 15% of consumers shopping digitally for their groceries for the very first time.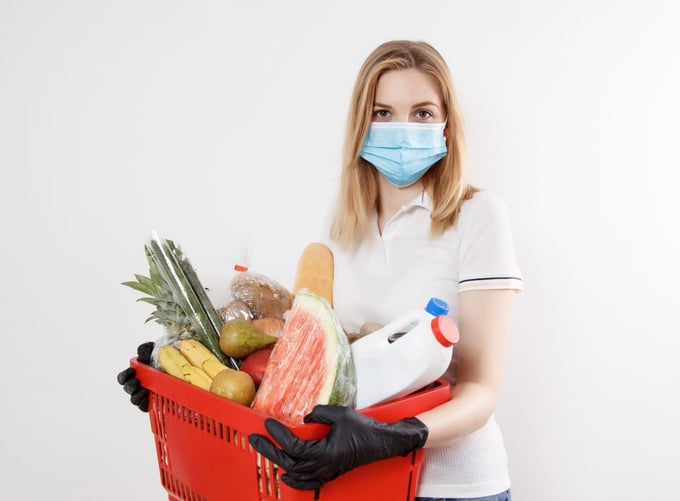 But how are supermarkets coping with the transition to e-commerce and what are the lockdown lessons for grocery retailers from our journey through this pandemic so far? While the crisis may have accelerated the move online, eGrocers are going to need to start thinking about a reliable, future-proof strategy for the longer term in order to retain customers and win new ones.
Lockdown lessons: the customer experience is paramount
For the average retailer, simply making goods purchasable online and setting up a delivery system is enough to master e-commerce. But for grocery retailers, it's a much tougher sell.
When consumers shop for groceries they expect to have a great deal of control and choice over the experience in a way that they wouldn't if they were shopping for, say, a new TV or a pair of jeans. Grocery customers expect to be able to weigh out perfect portions, select hand-picked fruits and vegetables, and choose their favourite cut of meat from the deli counter.
The toughest lesson learned by many grocers in 2020 is that this experience is very hard to replicate online. Some, perhaps in desperation, have outsourced their eGrocery experience to delivery app companies. While this potentially has short-term gains, it's not sustainable and doesn't guarantee future success. It also cheapens the experience for online shoppers, perhaps tainting the brand for good.
Lockdown lessons: build an eGrocery infrastructure for the future
Grocery retailers have a huge opportunity for growth as we move into 2021, but they need to orchestrate that growth in a sustainable, forward-thinking way. As we've discussed, quick fixes such as the short-term reliance on delivery app companies does not work, and that's true of all strategic aspects of an eGrocery business.
Grocery retailers must own the user experience, customer relationships and operations to build a profitable digital business. A grocer should retain full control over its brand, product offering and pricing as it grows. To ensure a healthy bottom-line, in-store picking has to be efficient, and full integration should be made with the existing ERP infrastructure. A headless commerce approach, such as the grocery e-commerce solution offered by Emporix - powered by over ten years of experience in the online grocery market - will allow grocery retailers to grow at their own pace by integrating the established set up with new systems and processes as and when needed.
While it may be tempting to capitalise on the effects of the pandemic as quickly as possible, it's this sustainable, home-grown approach that will serve eGrocers well in the long-term.
Find out more about Emporix's grocery commerce software solutions here, or get in touch with us by clicking here.