Article
MPREIS launches digital storefront
Grocery chain MPREIS has partnered with Emporix to deliver a digital storefront for its network of 240 Austrian stores.
The grocer, which in Austria is largely based around the Tyrol region in the west of the country, has built its brand on a commitment to sustainability. With a focus on local and seasonal produce sourced from the surrounding Alpine region, its products are sourced responsibly with many displaying the fair-trade seal. These include low-carb and gluten free options and over 1,000 organic names.
The grocer wanted to create a digital storefront to showcase all of these products and improve the customer experience by extending its brand online. It was important to bring the brand's local experience to the digital storefront, but without disrupting the individual stores. It was also essential that the mechanics of the site enabled a smooth and positive user experience to match its position as a valued brand. Emporix's headless commerce solution has made this possible.
What is a digital storefront?
A digital storefront is essentially exactly what it says on the tin; an online display of a store - the storefront - where a retailer can showcase its product catalogue and provide helpful information on stock availability, pricing and special offers. It's also a digital space where customers can search for their favourite groceries. As such, it is a useful touch-point between customers and the brand that plays an important role in supporting the overall shopping experience, blending the online and instore engagement.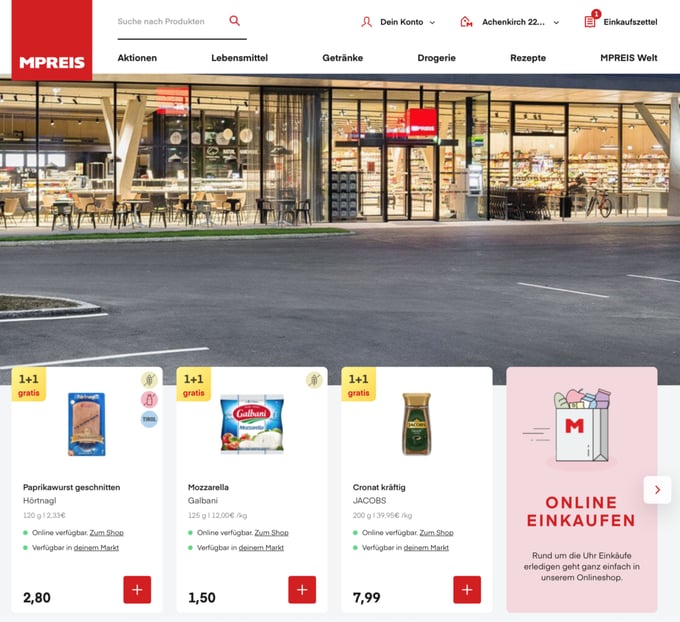 How will the digital storefront work for MPREIS?
With the large number of branches in the MPREIS network it was vital to create a digital storefront that was consistent across all stores but still maintained the brand's focus on local convenience. Emporix has built functionality that allows a central product catalogue to be localised per store. The headless commerce solution is also flexible enough to allow items to be priced individually by stores, allowing them to run promotions and offers that are specific to their store and reflect the local market preferences. Not only does this benefit the customers, it allows stores to work independently and respond with agility to the local market.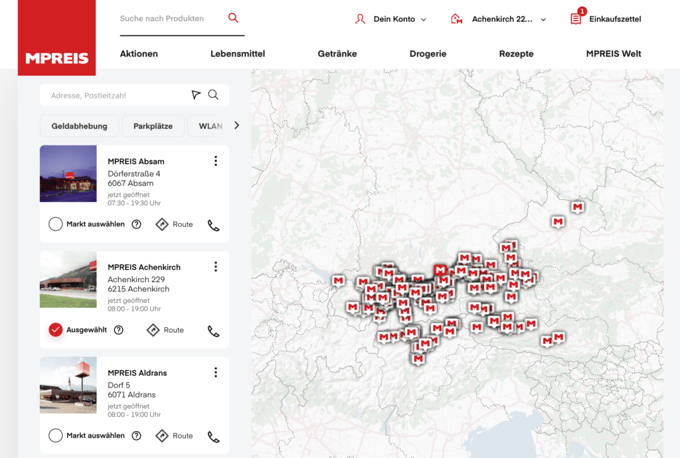 Further localisation is made possible with the opportunity to optimise product information for SEO purposes. This helps customers in the local area that are searching for products online to know that they can find their favourite groceries in their local MPREIS store. Furthermore, by hosting everything online, MPREIS no longer needs to invest in any printed product brochures and can make regular updates to keep the catalogue fresh and displaying the very latest information.
Data is king
To be able to show the different product catalogues with different prices and availability by the store, it is essential to have the product data available in a central database. The Emporix product management system, which is fed by MPREIS central ERP system for basic product data, prices and availability, provides a way of achieving this. Additional product data points, such as ingredients, nutritional information, allergens and accompanying images, can be updated from an external grocery product database.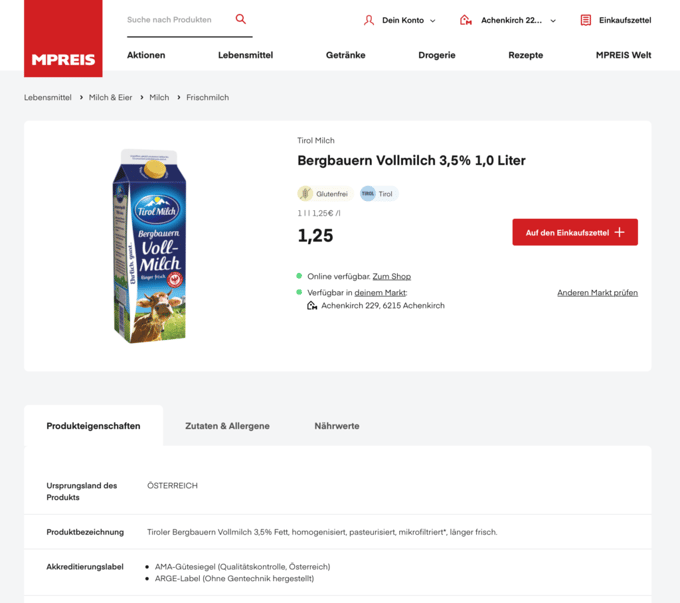 Search engine functionality
In order to facilitate the multistore digital storefront, MPREIS needed a search engine that worked seamlessly with the back-office functionality of the Emporix product management system. Emporix was able to include a specialist search engine functionality on the site that powers the search function of the MPREIS digital storefront. The intuitive search tool helps the user to find results quickly and efficiently, even with spelling mistakes. The speed and intelligence of the search engine helps to create a crisp and positive user experience for MPREIS customers with fast page loading for search results.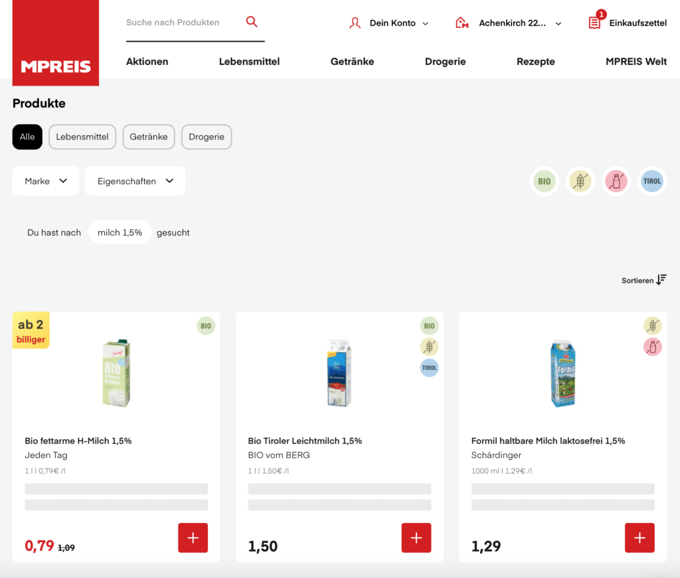 Unique customer experience
MPREIS is well known for the outstanding design of its bricks and mortar stores. In order to build a unique online customer experience that is in keeping with the high end design of its physical stores, MPREIS worked with its local web agency to build the digital storefront on top of the Emporix headless commerce solution.
In an increasingly digital world, an online presence is becoming a necessary extension of a retail brand. A digital storefront such as MPREIS's demonstrates how this can be developed in a way to serve multi-site store networks and enhance the overall brand experience with localised information.
If you would like to discuss an online business approach for your company, please get in touch with us.
Photo: MPREIS in Weer, taken by Lukas Schaller