Article
Case Study: Building a New Digital Storefront for a Top Grocery Chain
Austrian grocery chain, MPREIS, has teamed up with headless commerce specialists, Emporix, to expand its brand online with the launch of a new digital storefront.
The grocer, which is largely based around the Tyrol region in the west of Austria, offers a range of local and seasonal produce including fair-trade products, low carb and gluten free options and over 2,000 organic products. The digital storefront will now provide an online showcase of the product catalogue, removing the need for printed promotional catalogues, as well as helpful information on stock availability, pricing and special offers.
Covering 240 different stores, the digital platform has been built to enable localised and optimised content for each individual store thanks to the flexible software solution that Emporix has created in collaboration with a number of other specialist digital partners.
Feeding from a central database of product information, individual stores will be able to manage their own product catalogues, including pricing, availability and promotional content, to tailor and optimise it according to local market preferences.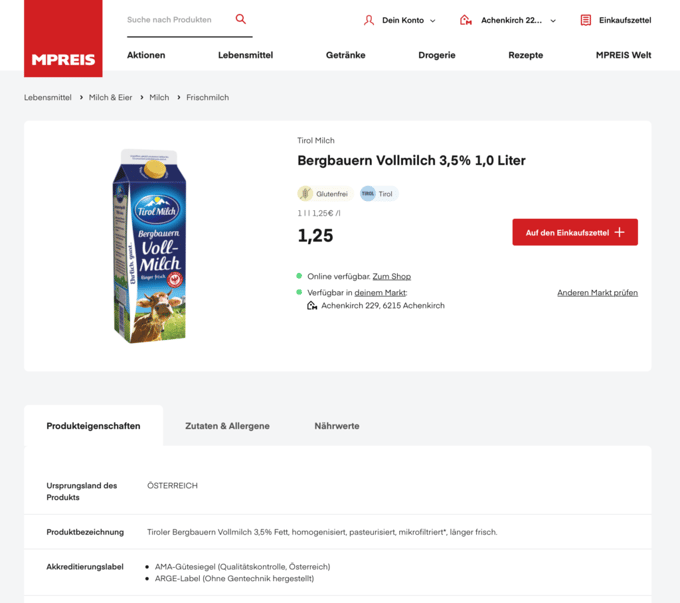 Ulrich Theilmann, head of eCommerce at MPREIS, said: "We've built a loyal customer base that enjoys a positive shopping experience in our stores where they can find high quality local produce. We wanted to replicate that brand experience with a new online offering.
"Working with Emporix's headless commerce solution has made this process very straightforward. It allows us to seamlessly integrate a number of great design and architecture features into the site from a variety of digital partners, each of whom is an expert in its field.
"Every touchpoint has been built to deliver on both convenience and quality. It all feels very simple and intuitive to the end user, but I understand that there is a lot going on behind the scenes to make it happen!"
Eberhardt Weber, CEO of Emporix, explained how headless commerce works: "Adopting a headless commerce solution splits the front-end and back-end of a website into separate touchpoints. This gives us the flexibility to incorporate a number of different functionalities with ease, leveraging various cloud-native microservices and APIs that have been especially designed for eGrocery services. Each partner has been able to implement its solution without disrupting or causing conflicts with other aspects of the digital storefront, which provides a great platform for collaboration."
Design strategy experts COBE were responsible for developing a digital user experience (UXi) that could reflect the MPREIS brand and its focus on quality produce, while web and mobile design experts clubdrei.com created an intuitive MPREIS user interface (UI).
Felix van de Sand, Managing Director und Director of Design Strategy at COBE, said: "We wanted to create a digital experience that fans of the brand would instantly feel familiar with. The design is clean and vibrant, while showcasing the great products by telling the story of their origin allows them to be the star of the show. This does not only strengthen the brand of MPREIS, it also makes the user experience unique and distinct, letting the MPREIS online store stand out from its competitors."
For clubdrei.com, the objective was to ensure the digital storefront was agile enough to respond to different users and still provide a consistent and seamless experience. This was approached from two angles: through integrating the content management system in a way that was flexible enough to handle localised content across the 240 stores; and by ensuring that the storefront worked perfectly across all types of devices, from mobile to tablet to desktop.
Thomas Reinstadler, managing director from clubdrei.com said: "Ensuring that the website's content management system could allow for multiple users to optimise separate content simultaneously from a central database was our greatest challenge. It was also our greatest victory and we are delighted with the result. The headless commerce approach has enabled us to easily integrate this advanced functionality into the site."
He continued: "Server side frontend rendering makes the user experience fast and comfortable. By dynamically stacking the content at smaller screen sizes it displays equally well when scrolling on a mobile or a tablet as it does when it is expanded on a larger desktop screen. This not only aids the user experience, it means that there's no need for further investment in an app, which is a significant cost saver."
The product data for the digital storefront has been managed by retailer data management experts Markant, who worked to enrich the data from MPREIS to create optimum product descriptions in line with Food Information Regulations (FIR). The accompanying images throughout the site have received similar optimisation treatment via media management software from Cloudinary.
In order to make finding the products as easy as possible, including tailored results depending on the local store data, specialist search engine functionality from Algolia has been integrated into the site. This software is both intelligent – allowing for spelling mistakes and to promote associated products – and fast in loading its results.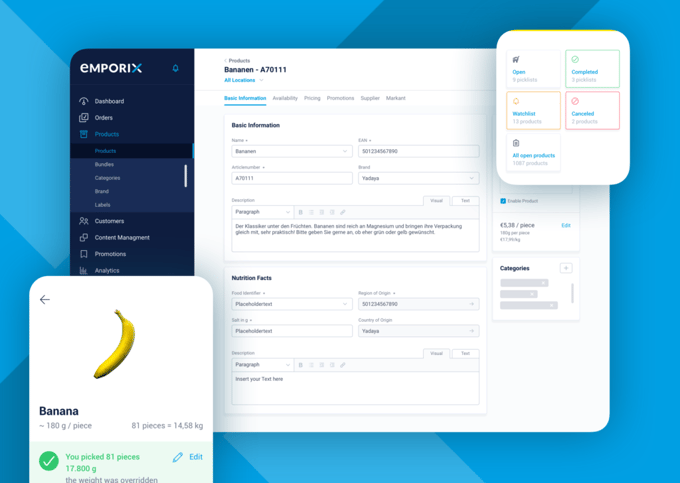 User interface experts SNK were brought in to collaborate on the Emporix back-office UX. Its solution ensures that the ongoing maintenance and management of the site was as simple for MPREIS staff to use moving forward as the front-end experience would be for the grocer's customers.
Christian Flaccus, co-founder of SNK, said: "A good user experience for the site owners when using internal management systems is becoming increasingly important, as it has a direct impact on efficiency. We've created a backend experience for MPREIS that will help them to manage the day-to-day business way faster and free some time for thinking beyond just standard activities."
Ulrich Theilmann concluded: "In an increasingly digital world, an online presence is becoming a necessary extension to the retail brand. The digital storefront that has been created here helps to enhance the overall brand experience for our customers. The way it has been built, using headless commerce, leaves us with scope for even more enhancements as our online business continues to grow."