MACH
How does headless commerce and a microservices architecture scale up e-commerce?
Agile headless commerce software with a microservices architecture allows you to scale your online business.
Headless commerce architecture means the front-end of a website is completely separate from the back-end e-commerce functionalities. In other words, it separates the business logic layer with things like your online cart, from the content presentation layer where your customer shop for products, and decouples the two for more flexibility.
Two main benefits of headless commerce and microservices architecture
The good news is, building a successful online store does not have to become a large scale redevelopment project that requires major investment. Adopting a headless commerce approach and a microservices architecture makes this possible through scalability and agility. Begin by setting up an e-commerce platform that first opens the channel by integrating with current systems, and then has the scalability and agility to grow with your business.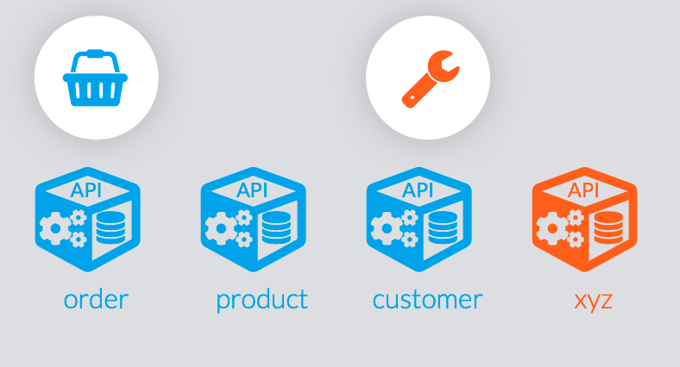 Scalability of headless commerce
As it is not necessary to build a whole new sales website, headless commerce allows you to get a new online store off the ground with ease.
It also allows you to take a long-term view to developing at a manageable pace by treating each new functionality individually, adding further updates as the channel grows.
A headless commerce approach means that the front- and back-end of the site are treated separately.
The front-end or "the head" - think user interface, social commerce, digital marketplace, IoT (Internet of Things) and more that can be updated or changed individually without interfering with the back-end.
This essentially provides enterprises more flexibility to create unique experiences for your visitors. They can select and customize the features and functionalities of their commerce platform.
New back-office functionality, such as a shopping cart or a sales mechanism, can easily be added to an existing site and then integrated using APIs (application programming interfaces). This is all hosted in the cloud to keep IT requirements lean.
A headless commerce architecture is also suitable for multi-platform customer experiences. This could be via a website, on mobile or social media, as well as for more advanced digital shopping channels such as voice-activated and the Internet of Things.
This approach de-risks entry into e-commerce and provides scope for scalability and continued growth.
2. Agility of a microservices architecture
There are numerous customer touch-points along the online sales journey, from searching for favorite groceries to reviewing a shopping cart or adding in promotional codes.
Separating all of these touch-points and treating them independently - decoupling individual functionality tools and then knitting them together again using APIs - is known as a microservices architecture.
This architecture offers the benefit of being extremely agile. In this way it is very easy to make rapid changes to bring in new features and software updates with minimal disruption.
It means that you can test and introduce UX and UI updates on short release cycles for one touch-point without disrupting or causing any conflict with other touch-points. These new functions can also be developed in parallel.
Through a headless commerce and microservices architecture, your site can continue to evolve with new updates and functionality being added whenever the time is appropriate, while the established site remains unimpacted and completely operational.
Another great benefit of working via a headless commerce eand microservices architecture is that you can bring in specialist partners that can provide bespoke new functionality for your online store.
This can include everything from solutions to look after a customer-centric digital experience to installing a specialist search engine.
This level of agility and scalability guarantee that the investment in e-commerce remains future-proofed.
To find out more about headless commerce architecture and microservices, why not get in touch with our team now?