B2B Commerce
B2B grocery: How suppliers evolve their eCommerce infrastructure
In a recent article, we talked about why manufacturers and consumer packaged goods (CPG) suppliers might want to start thinking about their own proprietary b2b commerce platform. While the majority of manufacturers and suppliers will continue to do the bulk of their trade with large supermarkets and retailers, using the customer's systems when it comes to taking and fulfilling orders, a new opportunity is emerging to cater to a much wider audience of buyers in a way that's fast, effective and operationally efficient. To do so, you need your own eCommerce system.
In our previous article, we discussed this opportunity in detail. We touched on how the b2b grocery market has diversified - particularly during the pandemic - and what manufacturers and suppliers stand to gain by broadening their reach with their own b2b commerce platform. We also talked about how streamlining order management and fulfillment could be the easiest and quickest way to increase your operational efficiency when catering to smaller and medium-sized customers, unburdening your team from trivial, manual tasks.
In this article, we're going to talk about what you need to consider in order to make that happen, and how easy and seamless full-scale digital transformation can be with the right technologies and partners in play.
Commerce that's built around b2b grocery
The challenges of the food trade are almost entirely unique. The grocery sector has far more complex order criteria to fulfill than general retail. Perishability, weight, and volumes, for example, tend to vary more per line, or even per individual product, than in other sectors. Business customers can also have unique preferences when it comes to the kinds of products they want, from specific cuts of meat to the ripeness of a banana. And let's not forget pricing.
Most grocers will choose to buy wholesale, buying and selling in large quantities and negotiating accordingly, so any commerce infrastructure would need to be able to deal with variable, bulk pricing on a sliding scale. And, increasingly, buyers are keen to do business online and 'self serve' as much as possible, which means phone calls and manual paperwork are a lost cause when targeting many modern business owners.
It's tempting to consider all of this and rest on the assumption that manufacturers and suppliers are simply better off doing it themselves. After all, dealing with smaller 'fringe' customers is only a small percentage of their overall revenue. But what if that percentage could be higher? What if, by eliminating the manual work that has to go into preparing invoices, managing delivery dates, processing orders, and making sales calls, efficiency could increase to such a point that this 'fringe' revenue could become a primary revenue stream?
This is what a grocery-focused digital eCommerce solution can achieve, and it's within closer reach than you might think. But if you're at all apprehensive, you're not alone.
"I'm a terrified dinosaur. I've been living in a cozy world of old brands, big volumes, nothing changing very much, and you could just focus on being very efficient and you'd be okay, and all of a sudden we are being disrupted in all ways" - Jorge Paulo Lemann, Kraft Heinz
Time for a new generation of b2b eCommerce
We've already talked about the unique needs of the b2b grocery sector, so it's clear that an out-of-the-box commerce platform isn't really going to be fit for purpose. But that doesn't mean you have to be stuck building your own proprietary solution from scratch that you'll then have to maintain and update every few years to stay relevant.
We call this traditional approach to eCommerce 'monolithic', which basically means a website that is expensive, cumbersome, and never stays relevant for long. Rolling out new features is a chore - if it's even possible - and you'll constantly be on the back foot when dealing with startups and young businesses.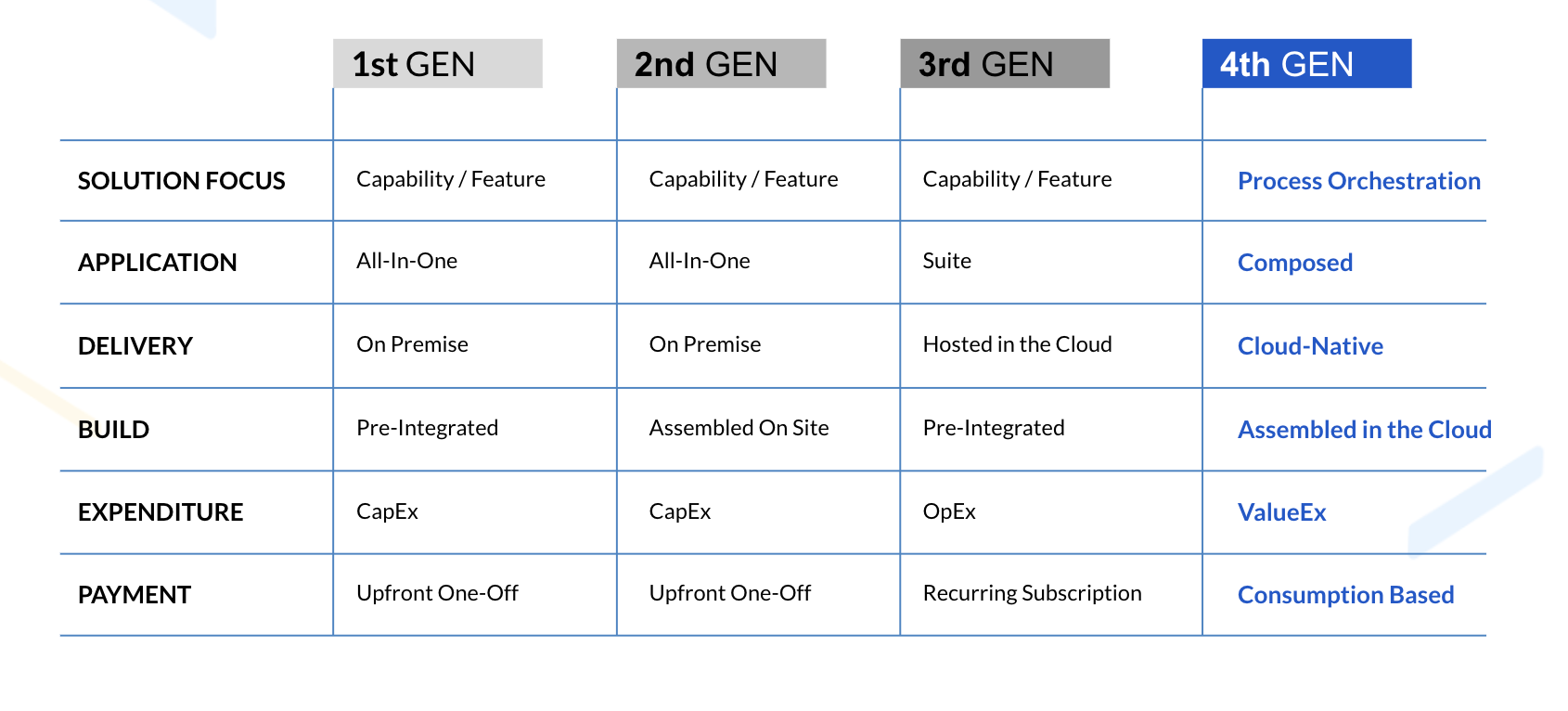 But monoliths are old news. Here at Emporix, we understand that the monolith is now being replaced by what we call 'the swarm'. There are more than 8,000 unique e-commerce services now available as part of this swarm, and that number will continue to grow with innovative new software solutions to very specific functions launching all the time. These microservices can be combined and seamlessly integrated to create a scalable, flexible whole that offers the chance to have the 'best of the best' across all functions and continually evolve rather than locking your business into an instantly outdated monolith.
This B2B swarm can be tamed and navigated with what's often referred to as 'composable commerce', and it's an ideal fit for manufacturers and suppliers that deal frequently with unique and challenging criteria. For instance, instead of relying on a jack-of-all-trades monolith that performs most things adequately, your business could tap into the best B2B bulk pricing application on the market, and combine it with the best catalog management systems.
So on the one hand, you solve the B2B bulk pricing issue we alluded to earlier, and on the other, you have a fully-functional digital catalog that can display pre-selected products for buyers with tailored prices and deals. You may decide that the catalog aspect is less important, or that you don't need that level of functionality, so instead choose to focus on integration with your existing wholesale system, perhaps offering customers live stock updates and setting up automatic invoicing.
The point is, you get to choose where to innovate based on your current situation and needs. From product search capabilities and the ability to filter and recommend products, right through to tailored pricing, quoting, and invoicing, you'll get an e-commerce solution that not only works for you, doing all of the heavy lifting but also evolves with you.
To learn more about Emporix's B2B Composable Commerce platform or speak to one of our grocery B2B specialists, get in touch today.