Enterprise e-commerce
All-in-one or composable? What type of commerce platform is right for your business?
The global market for commerce platforms is worth more than $6.2 billion, with a compound annual growth rate of 16.3% expected between now and 2027. It's the clearest sign yet that an increasing number of businesses are waking up to the advantages that a dedicated commerce platform can offer, from opening new marketing channels and broadening the customer experience, to automating repetitive tasks such as invoicing, stock management, and delivery notifications.
While B2B and B2C organizations will certainly have unique needs, both will undoubtedly benefit from the convenience and digital agility that come with investing in a new commerce platform.
The question you're probably asking is, which commerce platform is right for your business? An all-in-one solution like Shopify, 3DCart, or Magento? Or might it be better to take a composable commerce approach and build your own? In this article, we'll explore the benefits of each and help you decide which path to take at this digital crossroads.
The case for composable
If your business operates in any competitive environment and you typically have to work hard to attract customers, then today it is imperative to lead with technology-first in creating a customer experience that will stand out.
Providing your business already has the development expertise to leverage microservice architecture, opting for a composable commerce platform will give you virtually unlimited potential when it comes to scaling and adding new features to improve and enhance the functionality of your E-Commerce solution.
Composable commerce allows businesses to select "best of breed" features from a global market of vendors and build them into one, cohesive solution. Its modular nature means that swapping one feature out for another can be done with relative ease, allowing your business to upgrade and add individual services without the need for heavy investment or any downtime. It's fully flexible and agile enough to keep up with the new releases of technology that will ensure your customer experience keeps them coming back.
Let's say, for instance, a competitor rolls out a new cutting-edge product management solution that enables its customers to get real-time stock alerts. With an all-in-one solution, your business would have to either work within the confines of the chosen platform and potentially do without such functionality, or wait for the platform to catch on and roll out its own update. Alternatively, they could begin the unenviable process of replatforming.
With composable, you will have the freedom to add your own stock alert function, or something even better, as and when you need it. In this way, composable commerce tends to be what drives the market forward in terms of introducing new and improved functionality and features. So if your business needs to be agile in updating and improving its digital offering, composable is the way to go.
Consider many of the world's leading brands and, whatever sector they operate in, the chances are that they will be technology-led businesses. Walmart, for example, is now thought of more as a tech leader than a retail grocer, pioneering everything from autonomous drones that can pick and pack groceries to text-to-shop tools that customers can use to place orders, not to mention developing its own app for employees. None of these innovations would be possible without the freedom and flexibility afforded by composable architecture.
So whether you want to pioneer brand new technologies at the highest level, gain a competitive advantage by being among the first to roll out new functions and processes, or simply need to have a flexible digital platform that can keep up with customer demands, taking the composable road will serve you well.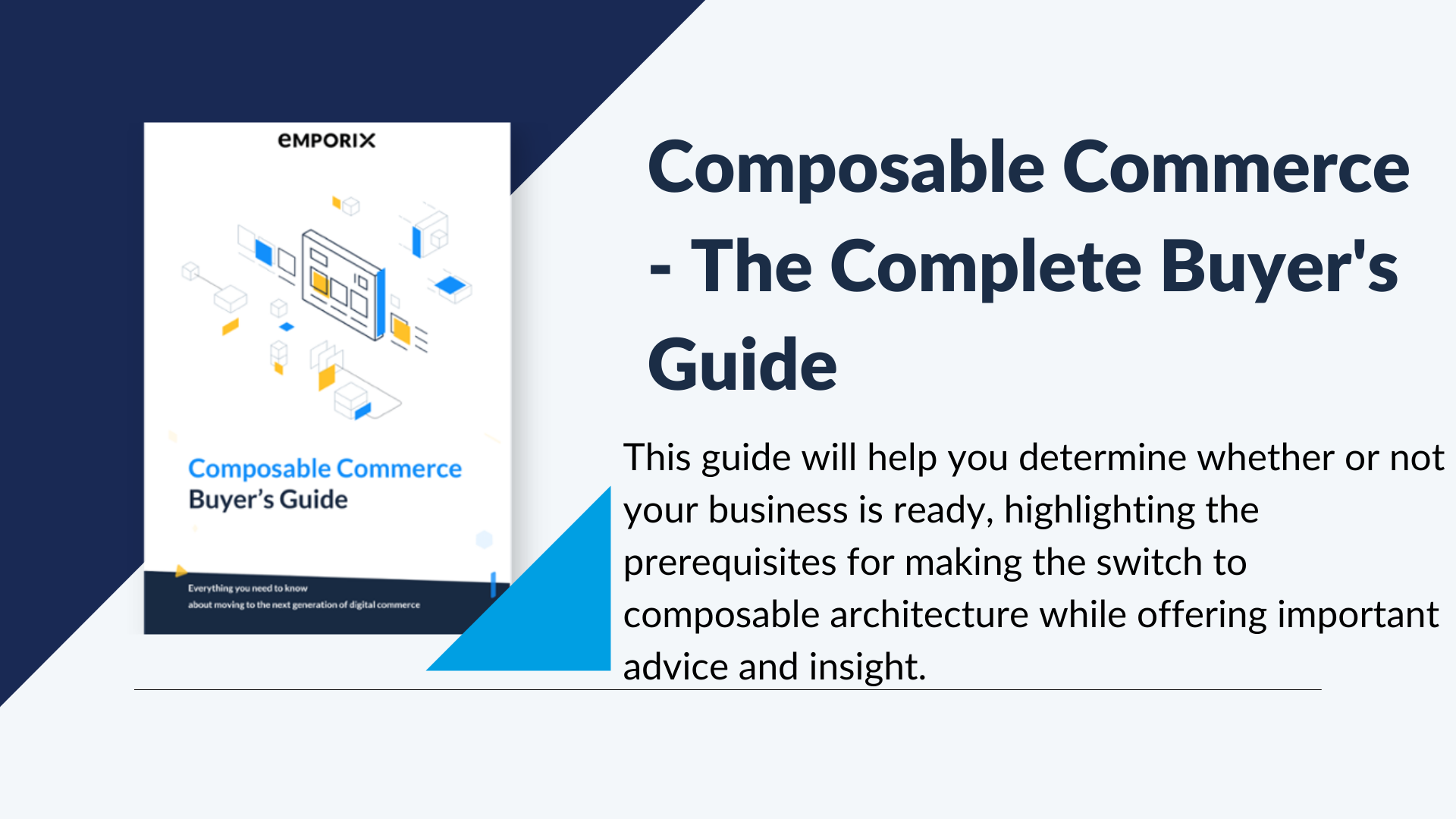 All-in-one commerce platforms
The popularity of all-in-one commerce platforms demonstrates that there is also a place for this type of solution. Having an e-commerce solution in place has become the new standard, particularly as an increasing number of B2B and B2C customers now prefer to do business online. For a lot of companies, the freedom and agility offered by composable commerce will be too good to pass up, but that doesn't mean it's right for every business.
Perhaps your business is not overly complicated and there are already online tools available that provide everything you need to run a simple online commerce store i.e. a shop front and a means of transacting. Or perhaps your business does not need to gain any advantage through technology, but instead has a competitive edge based on the unique nature of its product or service.
This could be because you have a very niche offering that instead can rely on its established reputation, or at the other end of the scale it could be a football club that has an unwavering loyal fan (customer) base. Or perhaps you have such a strong brand and product with such strong cut-through, like BMW for instance, that customers will seek you out regardless of which channels you engage with or how efficiently you can process orders.
If any of these sound like your business, then you don't necessarily need to become a tech leader in order to compete and an all-in-one platform might provide all you need. Investing in other parts of the business, such as product development or staff training, will probably be a better use of funds than investing in a more advanced digital commerce platform.
Having a readymade product in your hands that's already been tested and is largely bug-free will allow your business to leverage E-Commerce quickly and simply. It might not have the agility that composable commerce offers, and your business won't be at the cutting edge of new commerce trends, but you'll have dedicated support and a platform that - with some slight customization - is ready to go out of the box.
One thing's for sure, if composable commerce is the right fit for you then now is the time to act. As Gartner puts it, any organization that implements composable commerce by 2023 will be outpacing its competition by roughly 80% when it comes to the rollout of new features.
To find out more about Emporix and our composable commerce solutions, get in touch today for a free consultation.