Grocery Commerce
Optimising online grocery orders with wave picking
A key consideration when setting up an online grocery channel is how to pick and pack online orders as efficiently as possible, and without disrupting instore customers unnecessarily.
One option is to outsource this process to a third party as a quick fix. As we have mentioned in an earlier blog, however, this comes with many pitfalls. Not least, it creates inefficiencies by adopting a single-order by single-order picking process.
Freelance shoppers will arrive instore to collect and queue for their order, followed by a different freelance shopper collecting a different order.
Individual picking like this means that one customer's shopping is picked per round. This is the most inefficient method of picking and causes unnecessary additional traffic and disruption instore.
Increase efficiency to increase margins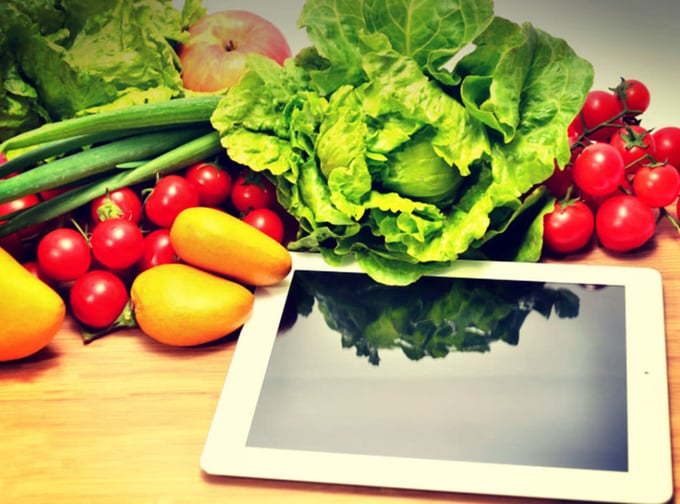 To increase margins from orders received via an online channel, it is important to build greater efficiency into the pick and pack process.
A level up from individual picking is batch picking.
This approach means combining the pick and pack for up to four customers at a time. Whilst this is slightly more efficient than the individual packing method, it is still relatively inefficient, disruptive and typically limited to picking a maximum of around 140 items in one hour.
There must be a better way!
Wave picking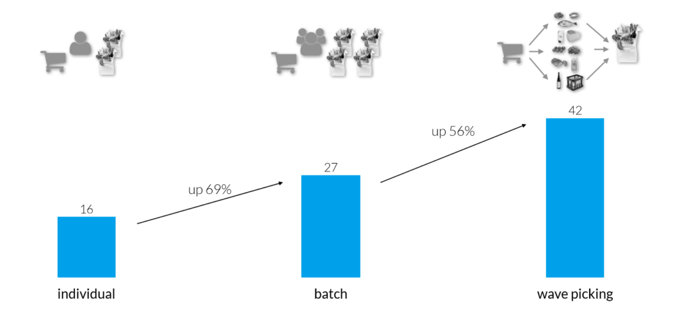 Wave picking is the best way to streamline the picking process. emporix has leveraged this approach by developing software to help the grocery shopping industry enjoy the benefits.
This promises maximum efficiency, enabling up to 800 items to be picked in one hour. This is nearly six times more than batch picking.
Where the individual picking process will fulfil a maximum of 16 orders per day over an eight hour shift of solid picking and packing, this jumps by 69 percent to 27 orders when adopting batch picking.
Wave picking, on the other hand, increases the number of orders to 42 per day - over 260 percent more than the individual picking process.
How does wave picking work?
By first creating a digital map of a store that logs exactly where all items can be found, aisle by aisle, the wave picking software employs a special algorithm that will automatically group and reorder a shopping list in a way that it follows the layout of the store.
This determines the order in which the items that have been ordered can be picked most efficiently. It also makes it much easier for the picker to combine several orders into a single pick and then follow a simple route around the grocery store to collect all the items in one go.
emporix's wave-picking solution will combine all picked items into an order cycle to streamline the process. We have also developed a mobile application for smartphones or Zebra scanning devices to assist pickers. This means that errors in picking are significantly reduced by scanning item barcodes as they are picked.
By streamlining the picking process like this, wave picking also minimises disruption to any instore customers that are shopping at the same time.
How to implement wave picking?
The implementation of this service into your online grocery store is a quick and simple process.
emporix's headless commerce software means that wave picking can be integrated into the back office without affecting any other features.
The benefits of wave picking will be upscaling order fulfilment, increasing pick and pack efficiency, decreasing disruption instore, and improving margins from online grocery orders.
To find out more, please contact us via the form below.