Grocery Commerce
MPREIS increase in Average Revenue per Customer 24/7 and zero downtime
Austrian supermarket giant, MPREIS, officially launched their new and improved digital storefront and online shop.
Powered by Emporix, the grocery chain is now fully ready to offer more personalized experiences to their customers –allowing them the ease to shop as if they were in-store –anytime, anywhere.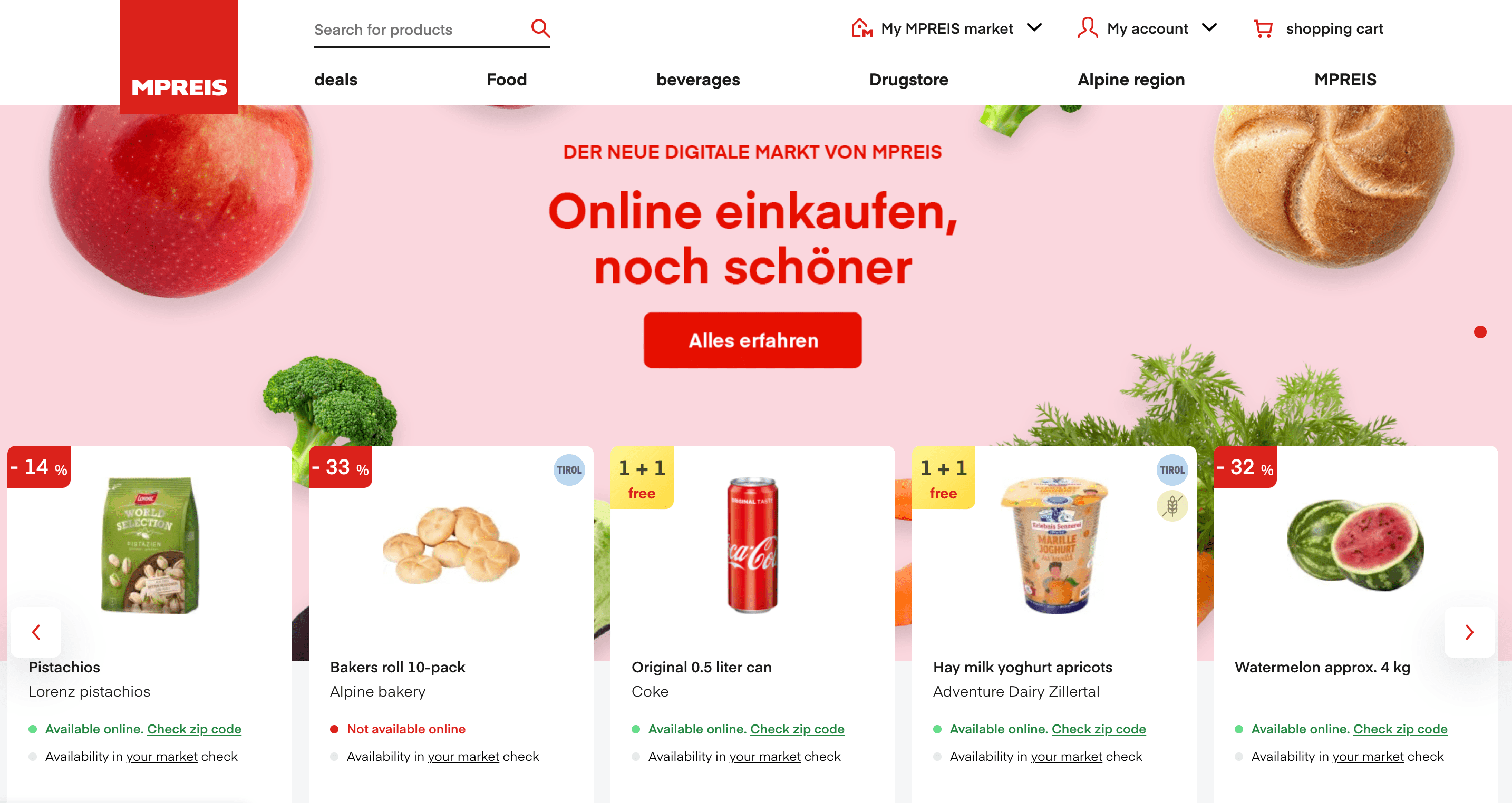 Built from the ground up on a headless commerce platform, MPREIS can now integrate and support new frontend storefront technologies without worrying about the integrity of their backend. This means they can now offer customers their grocery E-Commerce solution on more channels, and effortlessly push more frequent promotions – allowing them to capture more revenue.
"Working with Emporix's headless commerce solution has made this process very straightforward. It allows us to seamlessly integrate a number of great design and architecture features into the site from a variety of digital partners, each of whom is an expert in its field. Every touchpoint has been built to deliver on both convenience and quality. It all feels very simple and intuitive to the end-user," explained Ulrich Theilmann, Head of Digital Transformation & E-Commerce at MPREIS.
Now, MPREIS can quickly learn about the user experience from previous orders, provide a great customer experience, and win their customer's trust. Shoppers can easily find the products they are looking for with a built-in fault-tolerant search feature and benefit from after-search filters based on their preferences and allergies. All while automated suggestions increase order sizes while they shop –giving MPREIS an increased average revenue per customer and better commerce experiences.
Most importantly –MPREIS is able to stay future-proof with a headless commerce architecture that allows them to make changes on the fly. Now, with zero downtime, the grocery chain can be confident they're maximizing the store's earning potential –24/7.
"We decided to build a new architecture to be more flexible for the future," said Theilmann. "We have found a partner where we can set the whole system up with a solid foundation. We're really happy to be working with Emporix on this."
Localization at the store level
MPREIS is required to remain hyper-localized while still offering their customers a seamless shopping experience with over 250 locations and a strong emphasis on local markets and grocery delivery services.
"We've built a loyal customer base that enjoys a positive in-store shopping experience where they can find high-quality local produce, and we wanted to replicate that brand experience with a new online offering," said Theilmann.
MPREIS' presentation layer now has been built so that each local store remains in charge of its own product catalog and online promotions. This enables them to easily manage their local market and respond directly to customer preferences. All customers can continue shopping online safely knowing that they are dealing directly with their trusted local store.
The future of grocery
MPREIS embraced an intuitive, digital platform to expand its brand and functionality as a trusted grocer.
"In an increasingly digital world, ecommerce platforms are becoming a necessary extension to the retail brand. The way our storefront has been built using headless commerce, leaves us with scope for even more enhancements as our online business continues to grow," said Theilmann.
To hear more about Emporix's involvement with MPREIS or to learn how your business can benefit from headless commerce, get in touch here.