Grocery Commerce
Case study: How GoKo's kosher supermarket embraced online delivery and went nationwide
At first glance, GoKo might seem like an unlikely candidate to launch an online shopping service with 24-hour nationwide delivery.
GoKo stands for 'Go Kosher' and until recently its reach was limited to two branches in the east of London.
The supermarket earned a fantastic reputation for stocking the largest selection of kosher food and household goods in its area, constantly updating its stock to reflect the needs of its loyal customer base. GoKo even partnered with local fresh food suppliers to ensure its customers could get everything they desired under one roof.
The challenge of scaling up
Scalability is something smaller supermarket chains often struggle with, and GoKo was no different in that regard. No matter how popular its service, it was limited by geography.
For several years it ran a local delivery service to extend its reach, first by accepting phone orders, and eventually by accepting a small number of orders on its website, but it still remained limited. To expand and improve its service, something had to change.
It was then GoKo learned about Emporix grocery commerce software when browsing online.
They realised that in order to be successful and scalable, there was more to online grocery than just taking the orders online. They would also need to look at training and consult on the best ways to streamline their picking and packing processes for it to become a truly successful new channel.
The benefits of Emporix grocery commerce for GoKo
A new online shop was created with ease
A responsive design meant that it would work across all devices without need for an app
In-store picking could be managed via an innovative back-office solution
Automatic ordering allowed GoKo to integrate its local suppliers as part of the shop
A wave picking algorithm and packing dashboard helped to streamline the pick and pack process
Product Information Management (PIM) handled compliance with strict EU laws for data privacy and food information
Very little initial investment
Dedicated support from Emporix
Within six months, GoKo's new online store was ready for business.
Not only did the new website cover all of its nationwide e-commerce needs, it also continued to represent the two flagship supermarkets locally. Emporix also fully integrated SAAS CMS as part of the project, allowing GoKo to independently manage its own content marketing moving forward.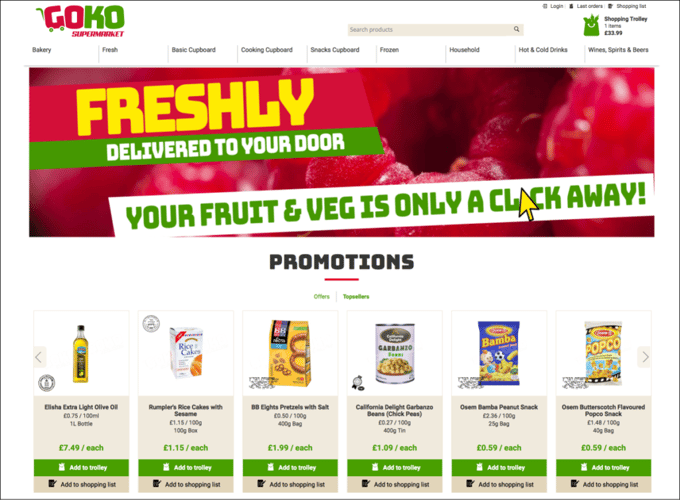 Picking and packing
GoKo still does all of the picking and packing for its online deliveries from its two existing supermarkets, adopting a 'wave picking' method.
This involves grouping customers' shopping carts together in delivery cycles, allowing pickers to collect more than 800 items per hour per ticket. The fresh kosher food (from butchers or the bakery, for example) is handled seamlessly by the back-office system overnight, ensuring a fresh and timely delivery for distribution.
The system also completely takes care of packing, telling employees which bag or box goods need to go into, as well as the order they should be packed.
Real-time POS integration
An increase in the number of orders naturally leads to more data. To keep its data clean and avoid the need for double-maintenance, GoKo opted to integrate its online system with the POS systems in the supermarkets.
This real-time integration meant that prices and availability were always up-to-date with no extra effort on their part, ensuring customers were never let down and always had a consistent shopping experience.
Today, customers can order 24/7 online from any device, selecting from more than 3,000 kosher products in a slick and well-presented online catalogue. Customers can also pick timeslots for delivery anywhere in the UK, and orders that come before midnight can be delivered fresh the very next day.
GoKo remains the only online kosher supermarket in the UK, but it is a perfect example of how smaller supermarkets can digitise and upscale their efforts to rival even the biggest supermarket chains.