Article
Are new delivery apps ruining the eGrocery experience?
According to a new global study, more than a third of consumers now shop online weekly.
That's a 28% increase from before the COVID-19 pandemic hit. This year is likely to alter the landscape of online retail in an unprecedented way, with millions of people being discouraged from leaving their homes unnecessarily in order to curb the spread of the virus.
It's a boon for most online retailers, with many enjoying a dramatic surge in sales.
The opening weeks of the pandemic created a scramble to set up online channels and delivery services as quickly as possible. Six months later and operations are beginning to become normalised, while experts are predicting that growth will continue at exponential rates.
With such a huge opportunity ahead, retailers are advised not to think quick-fix in their approach to setting up e-commerce by simply outsourcing. We explored the pitfalls of outsourcing in a previous blog, and it looks like some of the realities of using delivery app providers are becoming more evident.
Outsourcing delivery apps
A recent article in New York's Grub Street talks about the damage delivery apps like Amazon Prime Now, Instacart and Shipt are doing to the eGrocery industry.
Even before the pandemic, the article argues, 'professional shoppers' consisting of underpaid gig-economy workers were crowding supermarket aisles in an attempt to fulfil orders.
The article then cites a Business Insider Report: "Workers who fill Amazon Prime Now orders are in some cases clogging aisles, ignoring virus protocols, and exacerbating severe understaffing." A Whole Foods manager referred to the Amazon Prime shoppers as "vultures" who "pick departments clean" from as early as 6am in a bid to provide for their customers.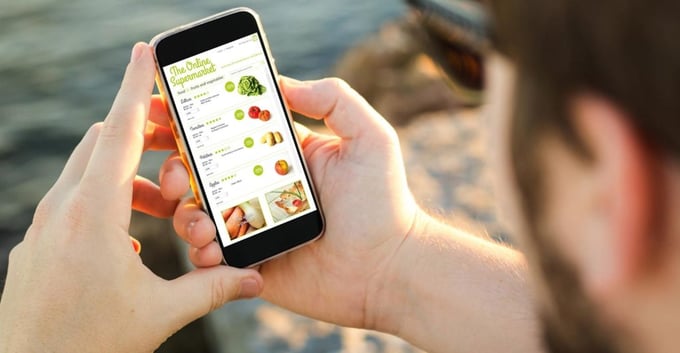 Grocery retailers can't be blamed for attempting to fulfil online demand, but rapid outsourcing does come at a great cost in terms of efficiency, profitability, consistency and user experience.
Will the speedy adoption of a full-service provider like Instacart have a negative impact on a grocery retailer's brand? How might it impact long-term viability?
Delivery apps themselves are not the issue; they are simply the preferred tool for placing orders.
A grocer that chooses to outsource to a third party delivery app like Instacart, Amazon or Deliveroo, however, relinquishes control of the very things that can make it unique and competitive.
The third-party will control the customer relationship, the customer data, the product catalogue and pricing strategies, as well as the pick, pack and delivery process.
Suddenly, the grocery retailer has lost control of the process, the quality of its customer service and the chance to fully capitalise on the exponential growth opportunity.
There is an alternative and simple solution that requires far less investment or surrender of control.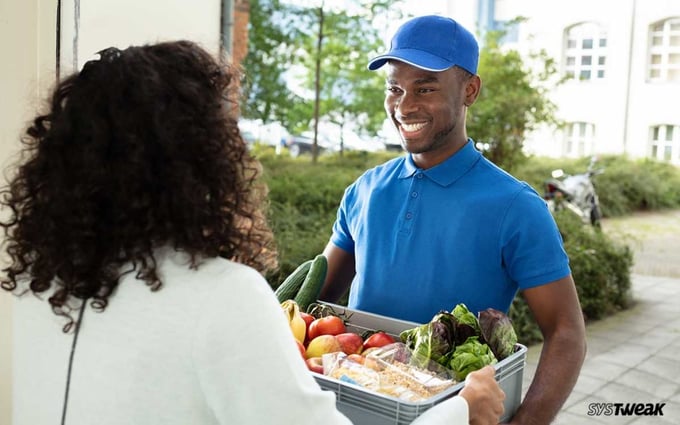 Retaining ownership with headless commerce
In order for a grocer to succeed online, it must differentiate itself from the competition. That means retaining control of the entire customer experience, from picking to checkout, right through to home delivery or collection.
While it may be tempting to outsource the picking, packing and delivery to a third party, it will severely hamper your company's ability to differentiate itself in the marketplace. That's where the concept of headless commerce really shines.
While not a solution in and of itself, headless commerce allows businesses to grow and scale flexibly, regularly adding new technologies into the mix such as apps and payment systems that enhance a customer's experience at each and every touchpoint.
Using headless commerce to grow your grocery business online will also help you better manage your physical stores offline. Take wave-picking for instance, a process developed to make the picking and packing process as efficient as possible with minimal disruption to in-store shoppers. At Emporix, our wave-picking solutions are tightly integrated with each store and its unique IT setup (POS, ERP), making the operation far smoother than any 'quick-fix' third-party could manage.
To learn more about how Emporix can help your grocery business compete online and achieve long-term success, please get in touch with us here.