Grocery Commerce
6 benefits of grocery ecommerce
There are several benefits e-commerce can offer your grocery chain. In fact, now more than ever, grocers are choosing to integrate their businesses online and adapt to evolving customer expectations and technologies.
Traditional e-commerce frameworks typically don't have the agility to keep up with emerging trends. However, with the right grocery ecommerce software solution, grocers should be able to quickly go to the market and easily manage their digital storefronts.
Why grocers should expand into e-commerce
A recent study shows a significant spike in e-grocery expansion from 2018 and 2023 and it's clear that throughout the past year, the popularity of online grocery stores isn't declining any time soon. However, smaller and more traditional grocers might worry that online expansion would reduce the overall quality of their customer's experience.
While these businesses might be more locally established and family-owned, they should understand that online expansion would provide the opportunity to actually satisfy modern customer expectations while continuing to reach the niche markets they were originally built to attract.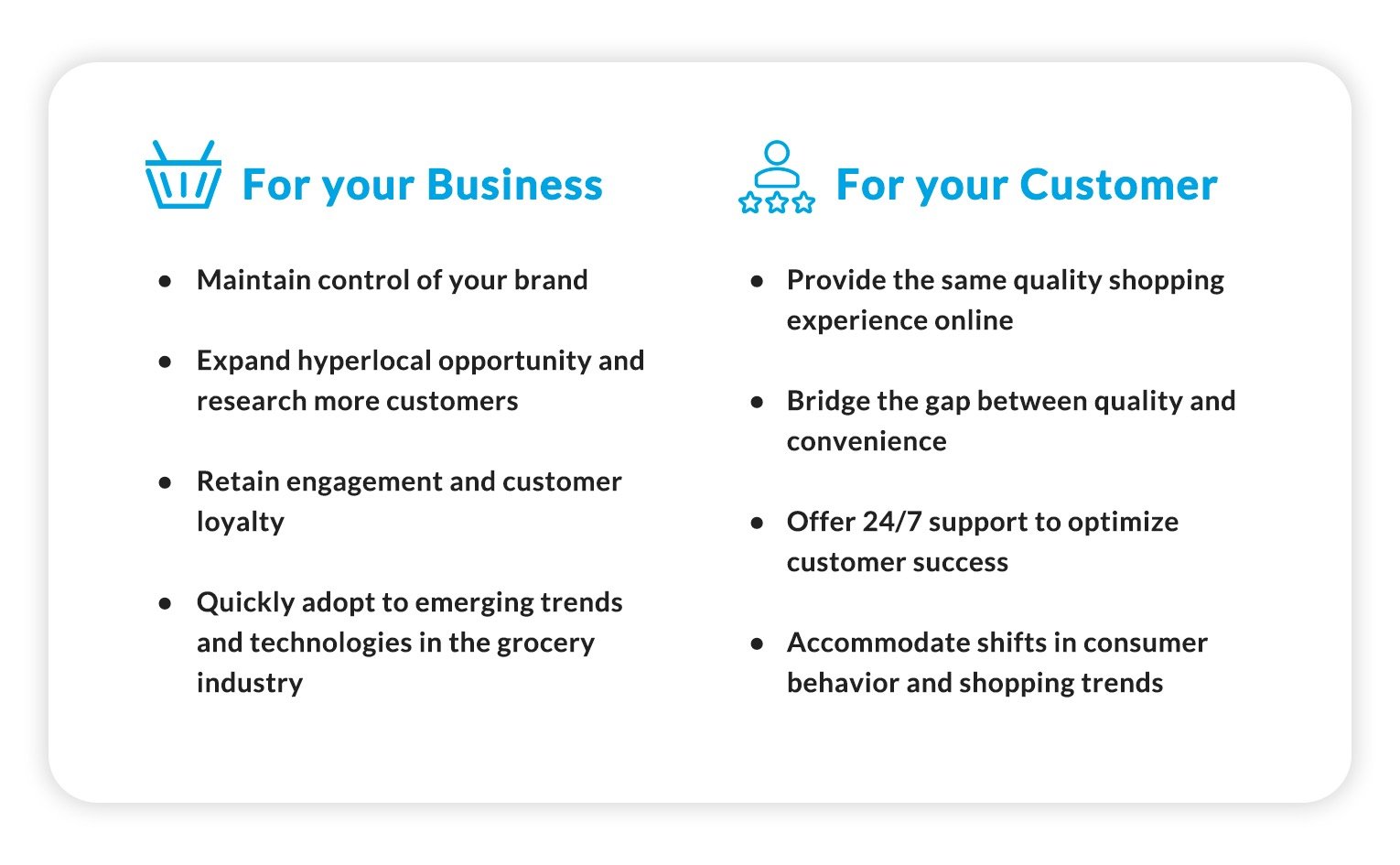 E-grocery expansion – benefits for your business
The right grocery ecommerce software allows businesses to add new features quickly and easily as well as maintain control of their overall brand image. Features such as consistent pricing models and accurate substitution offerings will help your brand establish credibility and provide the similar experiences customers expect in person.
Finding the right platform to get your grocery business online not only has the potential to facilitate a cohesive experience in-store, but it adds value to your overall business model. With the opportunity to offer similar deals and inventory online, businesses can position themselves as key players within the industry and offer a quality user experience.
2. Support customer demand with home delivery
Transitioning a business online allows local businesses to fulfill customer demand within their specific regions. There are a variety of commerce solutions available to fulfill emerging customer expectations by supporting hyperlocal marketplaces.
As a number of grocery business owners convert to online platforms to meet the demands of consumers in specific regions, the freshness and quality control of their products are vital components they need to consider. This is why supporting surging geographical demands and taking control of features such as grocery delivery is essential to bridging the gap between quality and convenience.

According to a study conducted by Google, 96% of respondents claimed they would look to a traditional brick-and-mortar grocery store to fulfill their home delivery and 85% of these respondents claimed they would select a store they already visited. This study reflects that while consumers value accessible and convenient options, they still consider the quality and familiarity when deciding where to purchase from.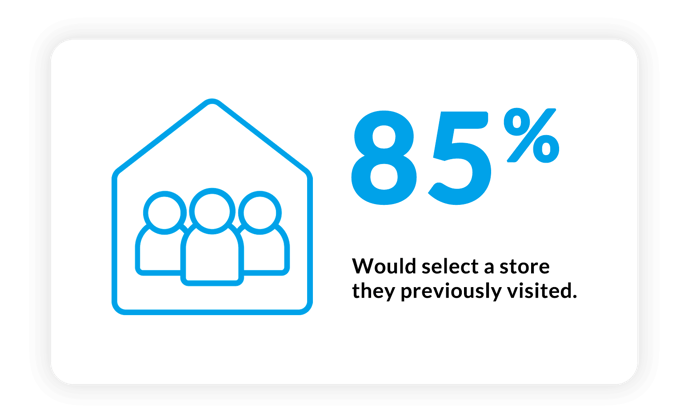 3. Enable valuable customer service and engagement
With features such as chatbots to enable 24/7 customer support and product search tools, online grocery businesses should prioritize customer success to create a seamless and helpful experience. While the customer is unable to touch, see, or feel the products they are purchasing, integrations such as order updates and replacement recommendations provide transparency and build customer trust.
Loyalty programs are an example of retaining customer engagement, offering members certain perks such as free delivery, exclusive discounts, and dedicated customer helplines. Offering loyalty schemes enable customer retention and greater lifetime value.
4. Flexibility on all levels
Not only do online grocery shopping platforms have the capability to provide excellent customer experiences, but they also allow for flexible consumer behavior and interaction. Touch-points such as product recommendations and multiple payment options contribute to the instant gratification and freedom consumers crave in today's market. With this in mind, digital commerce should also administer similar freedoms to business owners as well.
With headless commerce, business owners have the ability to separate the front-end and back-end of their online stores. Investment in a headless platform allows for a more advanced and future-proofed online shopping experience, without the limitations of where to sell or architecture restrictions. It is also important to keep in mind the value of headless commerce for customer success. With a headless architecture comes a great opportunity to customize the customer experience, gain insights into customer behavior and utilize this information to tailor your content and features to specific needs. Through personalization and multiple touch-points, businesses that bring their business online have the opportunity for endless scalability and growth.
5. Scalable growth and agility
Opportunities for scalability and growth are important for retailers to adapt to emerging trends within their industries. Ecommerce platforms that embrace microservices with API-first and cloud-native approaches ensure organizations will stay agile as they grow. Maintaining an agile system is important for grocery retailers because it means the platform can accommodate emerging demands and changes without the need to completely re-architect their entire platform.
APIs solve the 'buy versus build' dilemma to provide a low-cost solution to integration that would otherwise be expensive for local grocers and specialty stores to accomplish. Cloud-native applications also provide a list of benefits, including, keeping IT systems nice and lean, and automatically updating to ensure maximum productivity. Cloud-native applications allow businesses to master e-commerce in a way that puts customers first. This is particularly important to the grocery industry as consumer demands frequently shift.
6. Adapts to emerging trends and technologies
Today's consumers expect convenience and features that reflect current trends and instant gratification. Features such as efficient product search, a shopping list, and click-and-collect shipping offer a modernized shopping experience that provides value to online shoppers.
While deciding what platform to utilize for your digital storefront, it is essential to understand your target market and customer needs. Most importantly, consider integrating with a platform that consistently adapts to emerging trends in the grocery marketplace. One factor to keep in mind here is to look for platforms that work to make order fulfillment more efficient for the shopper.
Choosing a commerce platform that supports multi-channel order fulfillment, such as click-and-collect shopping, for example, will ensure your customers have the freedom to shop in a way that adapts to their expectations and demands. You have to keep your finger on the pulse of industry trends in order to stay relevant, so why not choose a platform that works to do the same?
Embracing digital transformation
As you can see, the benefits of grocery solutions far outweigh the work required to successfully bring your business to the next level and reach more customers within your area. And as expectations change within the grocery industry, the ability to provide necessary features to fit customer needs and complement existing storefronts is crucial.
If you are thinking about integrating your grocery business online, there are a number of tools that can make the process straightforward and painless. The best place to start is to consider the overarching goals of your business, who you are trying to reach and conduct the proper research to decide what platforms specifically meet your needs.
To learn more about adapting to e-commerce and how it can help your grocery chain stay competitive in 2021 and beyond, click here to get in touch.