What makes leading online companies successful?
Most successful companies in the online world are significantly more agile than others. They are able to set new directions and react quickly and easily to the latest market trends. And they manage to make commerce agile.
But why are many market leading online-companies not using market leading standard software?
IT is still a young discipline. And for the longest time in the history of the internet and IT in general, decision makers had to choose between creating or buying when developing new online software solutions. They were in the build vs buy dilemma. And because monolithic standard software was too static and inflexible, many successful online companies did not use standard software at all. Instead, they developed their own solutions to be more flexible than the competition. But this is obviously very costly and what is the point in re-inventing the wheel and build standard components that are already existing in the market?
We solve the build vs buy dilemma for commerce software!
With the introduction of cloud-native software based on microservices with defined and documented APIs, this has changed fundamentally. And we as Emporix solve the build vs buy dilemma. Instead of build OR buy you can now choose build AND buy.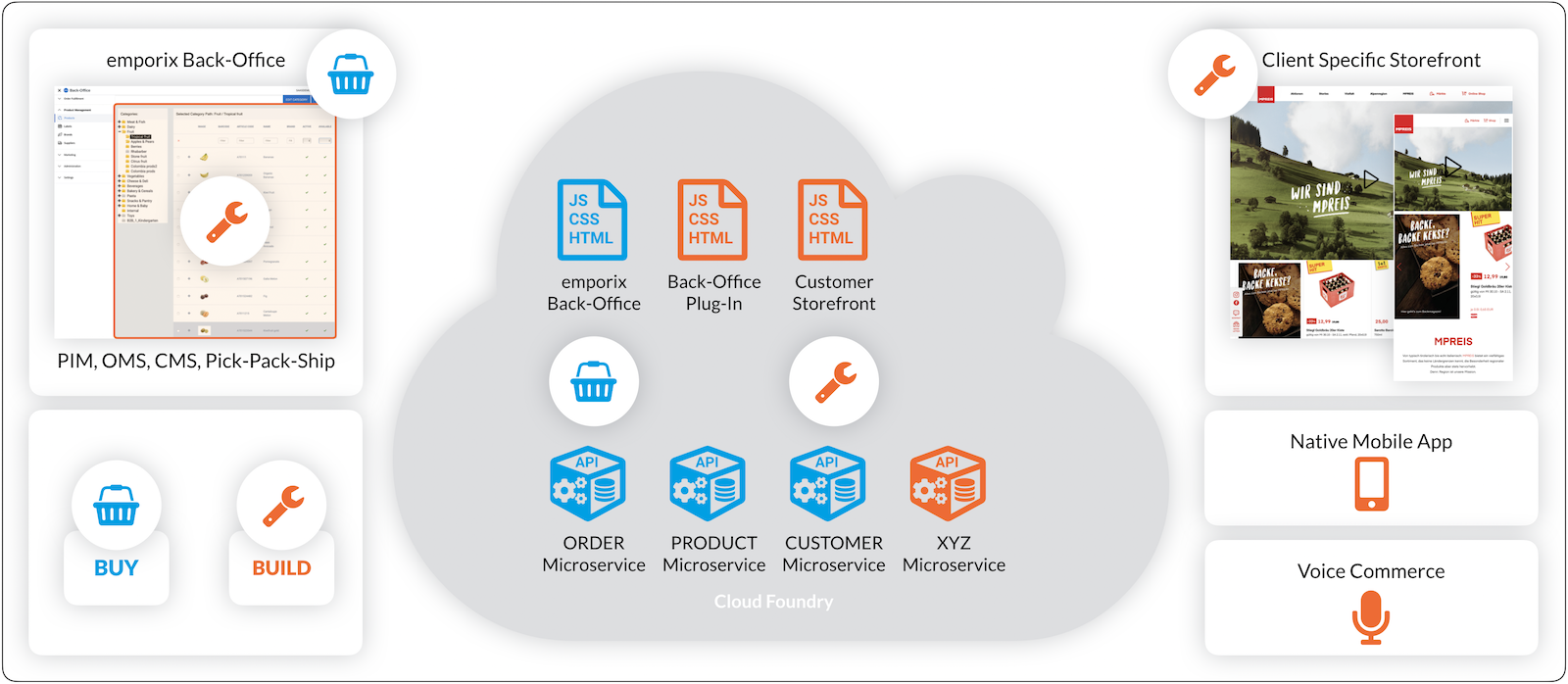 Emporix combines the best of both worlds: build and buy
Our Emporix headless commerce solution is based on microservices APIs that run in the cloud. Therefore, you no longer have to worry about typical standard functions of e-commerce solutions. We run microservices for shopping cart, checkout, customers and so on. Just rely on our APIs.
Emporix offers cloud-native agile headless commerce microservices and APIs
a really cloud-native architecture with microservices APIs make online-solutions future-proof, extensible and agile to market
microservices allow for agile development with short development-, test- and release-cycles and continuous deployment
headless commerce APIs have clearly defined and documented end-points that can be used by any touchpoint from system integrators, creative user experience agencies or your own in-house IT
the Emporix back-office is more than a simple administration console as it comes with an integrated Order Management System (OMS) and a highly efficient in-store wave picking algorithm
in addition to that, the integrated Product Information Management (PIM) manages complex products and services like 'sell by weight' and controls the pick-pack-ship processes
and as the cherry on the cake, the integrated Content Management System (CMS) manages market content and allows to link products easily to marketing content
Emporix started in the super complex B2C grocery business and is well-prepared for other e-commerce scenarios
Emporix makes commerce agile
Leave the standard features up to us. You no longer need to worry about performance, security or scalability. You better concentrate your energy, creativity and business ideas on your brand, your customer experience, and your individual touch-points. Get your business owners and internal IT back into the driver seat or work with world-class systems integrators or creative web agencies. Leave the technical details to us and focus on your customers again!
Get in touch with Emporix today and make your commerce agile
Please fill out the form below and we will get back to you as soon as we can! By submitting this form you agree to our privacy policy.